With our decisions and actions we want to help conserve natural resources by avoiding their exploitation, promoting care for the environment, always thinking about the well-being of future generations.
We are aware of the sustainability challenges facing the world, which is why we have been working for more than 20 years to make a social and environmental contribution to the development of Latin America.
Thanks to proper waste management, we have generated a positive impact in the country, since we reincorporate recycled materials into the production cycle as raw material, which can be used to create new products, strengthening our circular economy model.
At GEEC GAIA VITARE we transform recycling into innovation!
In 2022 we will recover around 60 tons of paper, to produce these 60 tons it would be necessary to cut down around 1,020 trees.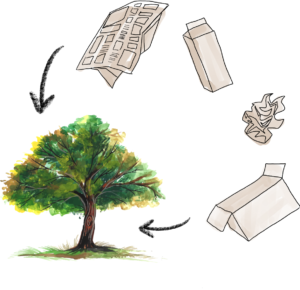 At GAIA VITARE we do not use water in our production processes, therefore, we do not generate discharges or contamination of the water resource.
In 2022 we will recover approx. 790 tons of ferrous and non-ferrous metals, the amount needed to manufacture approximately 850 cars.
In 2022, GAIA VITARE managed around 500 tons of batteries and accumulators, which could contaminate an amount of water equivalent to 2,150 Olympic swimming pools (5 million cubic meters).
At GEEC GAIA VITARE our main objective is to provide an unparalleled experience to our clients and for this reason, every day we strive to offer a service that exceeds their expectations, working focused on their loyalty and satisfaction.
Contact us to generate alliances that change the world.